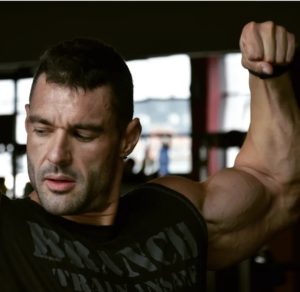 Lukáš Havlík was born in January 1985 and comes from Bratislava. In his early sports years he devoted himself to football, but gradually fell in love with dumbbells and his love became bodybuilding & fitness. Over the years, his body made major change and since 2006 has taken care of his clients to fulfil their goals as a fitness trainer.
He began to get to know the body culture from the age of 16, but he did not get to regular training until after finishing high school when he was 18.5 years old. At a height of 190 cm then weighed only a slender 65 kg. This huge disproportion between height and weight was his primary motivation to start exercising. His goals was to get closer to people who presented themselves in sports media.
Over time, he was gaining experience, improving, and even though he was still far from his goal, he began to become an inspiration for people, and it drove him further.
Another step was for him to try bodybuilding competitions , which he also managed and started at the domestic competition Tatran Cup and two international competitions Mozoláni Classic II and Grand Prix Pepa Opava in categories over 95 kg in bodybuilding category.
After the competition period from the end of 2014, he devoted himself to natural bodybuilding only for his pleasure, health and condition, which allowed him to be in shape throughout the year. 2022 was again a breakthrough year for him, as he again said that he would make use of the additional amounts of information he had acquired over time and would once again go on the competitive path, but this time in a new category for him, Classis Physique, in the NPC division.
The Classic Physique category represents the symmetry and proportionality of the entire figure with a touch of the 80s from the time of Frank Zanne. This category is perfect for Lukáš.
He currently trains a number of clients full-time and has hundreds of satisfied clients.
His aim is to provide quality information in the field of fitness training and nutrition, to provide quality services and thus to achieve client satisfaction and to ensure that more and more people care about their body and their health.