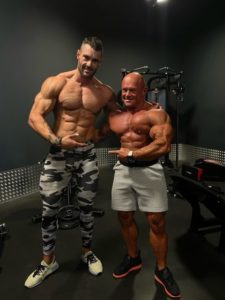 Arrange your individual training today!
It doesn't matter if you are a beginner or have more experience in training - I will prepare the training according to your expectation.
In this time personal trainings runs in Bratislava at shopping center Eurovea – Pribinova 8. Fitness-center: 365FIT&CO www.365fitco.sk
Fitness-centrum:  365FIT&CO       www.365fitco.sk
Don´t hesitate to contact me either by phone at 0903 293 603 or by email at lukas@lukashavlik.com
                                             TRAINING
From the outside, fitness is a simple thing. In fact, if you want to be really good, you have to go deeper and find that this is a far more complex matter, because each person is unique and everyone reacts differently to training, diet, supplements and training procedures.
Each has different genetic dispositions - ectomorph, endomorph and mesomorph. Depending on where you are, you need to consider what training and diet you need to choose. Training is the primary impulse for muscle growth, muscle quality and density. Quality, technically correct and sophisticated training is an essential part not only for gaining muscle mass, but also for reducing fat stores and strengthening muscles. The correct technique of performing the exercises, the order, the combination of exercises, proper breathing, intensity and duration of training, daily exercise time and many other aspects that make the training effective and functional must be supervised. In fitness, even small details are essential, so it is important to know as much as possible about the sport to get results.